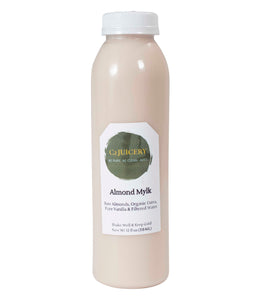 Ingredients: Raw Almonds, Organic Dates, Pure Vanilla, & Filtered Water
Flavor Profile:
New types of Mylk's are becoming poplar, try C2 Juicery's Almond Mylk!  This is our own special blend of raw almonds, organic dates, pure vanilla, and filtered water to create our sweet and satisfying Almond Mylk.  It's great on its own (it can curve a good sweet tooth), mix into your coffee, and/or mix into your smoothies!
Low in Calories.
Low in Sugar.
High in Vitamin E.
A Good Source of Calcium.
Naturally Lactose-Free.
Dairy-Free and Vegan.
Low in Phosphorus, With a Moderate Amount of Potassium.