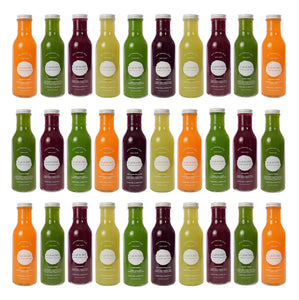 Receive 30 juices total for 4 weeks. 2 juices on Monday, 2 juices on Wednesday and 3 juices on Friday.
You can change your order weekly, if we don't hear for you by the cut off time we will make the same order as the previous week. 
You can mix and match your weekly order or chose to drink the same flavor for a week, it's up to you!
Leave your juice choices for the first week in the 'Special Delivery Instructions' at check out. To changes your flavors you can email C2 Juicery at c2juicery@gmail.com
This membership can start anytime during the month.  If your schedule doesn't allow you to take delivery a certain day/week simply email C2 Juicery at c2juicery@gmail.com to let us know and you won't lose out on any of your 30 juices.