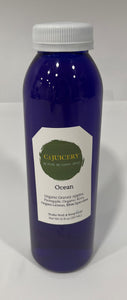 Ingredients
Organic Granny Apples, Pineapple, Organic Kiwi, Organic Lemon, Organic Blue Spirulina.
Flavor Profile:
Ocean is a fun fruity good for you juice to feed your thirsty cells. It is packed full of Vitamin C, antioxidant & anti-inflammatory properties. It can aid in digestion, support immunity, and serve as an aid to the cardiovascular system. 
Blue Spirulina, it is a type of blue-green algae that contains a number of nutrients, including B vitamins, beta-carotene, and vitamin E. Spirulina also contains antioxidants, minerals, chlorophyll, and phycocyanobilin.